Positions on the same instrument but in opposite directions (buying and selling), opened with a certain time lag for fixing losses on the first open position. If a lock of the same amount is applied, a change in the price of a financial instrument will no longer affect the deposit capital, since losses in one position will be offset by profits in another. Traders often use the lock as a pause needed to assess the market, monitor its dynamics, and make a final decision on which direction to unlock the locked funds.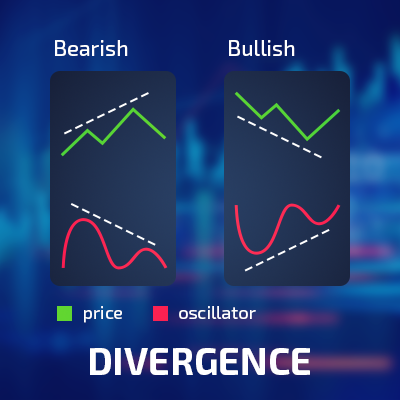 The term is derived from the Latin "divergere" which means to detect a discrepancy. In forex, a divergence usually means a warning given by a MACD indicator signaling a change in the existing trend to the opposite one.
A correctional figure in technical analysis, which appears in a period of weakening of the main trend. It can be both a signal for a price inversion and a continuation of the existing trend. To reduce the number of false signals, it should be considered on timeframes over H1.