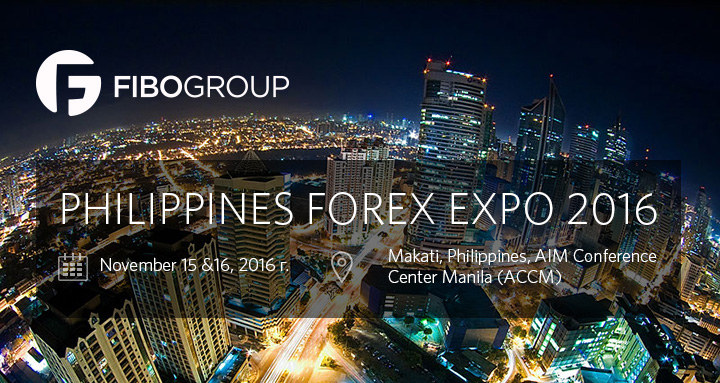 Dear clients and partners
On November 15-16, 2016 the PHILIPPINES FOREX EXPO exhibition will take place in the City of Makati, Philippines, where FIBO Group, Ltd company is a general sponsor.
As part of the PHILIPPINES FOREX EXPO FIBO Group, Ltd would present its services including the new type of account MT4 Cent that meets the demands of those, who are just taking the initial steps on the FOREX and CFD markets. You will have a chance to ask your questions about the trading conditions of FIBO Group, Ltd at the exhibition. The company team would carry out individual consultations with every client.
FIBO Group, Ltd is constantly improving its educational programs, by offering unique analytics and webinars to the clients, giving training workshops around the World. We are proud to have accepted the offer to become a General Sponsor of PHILIPPINES FOREX EXPO to make the most modern technology in the FOREX trading accessible to a wider range of traders.
To register for the exhibition, please, follow the link and fill in the form.
The exhibition will take place at AIM Conference Center Manila (ACCM) located at the address: Benavidez cor. Trasierra Sts., Legaspi Village, Makati City, Philippines.
About the exhibition
PHILIPPINES FOREX EXPO is a unique exhibition in Philippines gathering traders and companies which provide services on the FOREX market. Training seminars, workshops and round tables for sharing trading experiences to help traders become more successful and increase their earnings, are given here.
Best regards, FIBO Group, Ltd.